Enjoy light and medium tackle sport fishing for sailfish, mahi mahi, wahoo and tuna. Jigging tackle is also available for giant trevally, dogtooth tuna and jobfish.
Some of the world's best big game fishing is only a short boat trip away. Not only is there a high chance of catching the big one but at a very competitive rate. Spear fishing and salt water fly fishing are also gaining in popularity here.
Tonga is blessed with world class fishing " Blue Marlin (Pacific), Black Marlin and Striped Marlin, Sailfish (Pacific), Skipjack Tuna, Yellow Fin and pelagic species such as Mahimahi, Tuna, Wahoo (Valu Louniu) and a host of reef species including Dog Tooth Tuna (valu Tonga) and Giant Trevally (GT).
Other fish include; Kawa Kawa (Mackeral Tuna), Baracuda (Ono), Coral Trout, Dolphin Fish, Grouper, Job Fish (utu), Long Tom (haku), Spanish Mackeral, Ranbow Runner, Roundtail Seabream (mu), Hammerhead Shark, Mako Shark, Oceanic Whitetip, Shortbill Spearfish, Bluefin Trevally (lupo), Big Eye Tuna, Snapper Emporer, Emporer Spangled (koango), Queenfish.
Tonga holds the following of IGFA world records:
1, Men's 24kg line class for a 94kg Sailfish
2. Small Fry – Sailfish 55kg
3. Women's 15kg line class for a 38.4kg GT
Northern FAD 18 33 910 South, 174 03 900 West. Swing 500m
Middle FAD 18 36 700 South, 174 09 370 West. Swing of 400 Metres
Southern FAD 18 41 50 South 174 12 100 West. Swing 600m
Big Fish Vava'u
Phone: +(676) 84 22210
Email: bigfishvavau@gmail.com
Web: http://www.sportandgamefishtonga.com/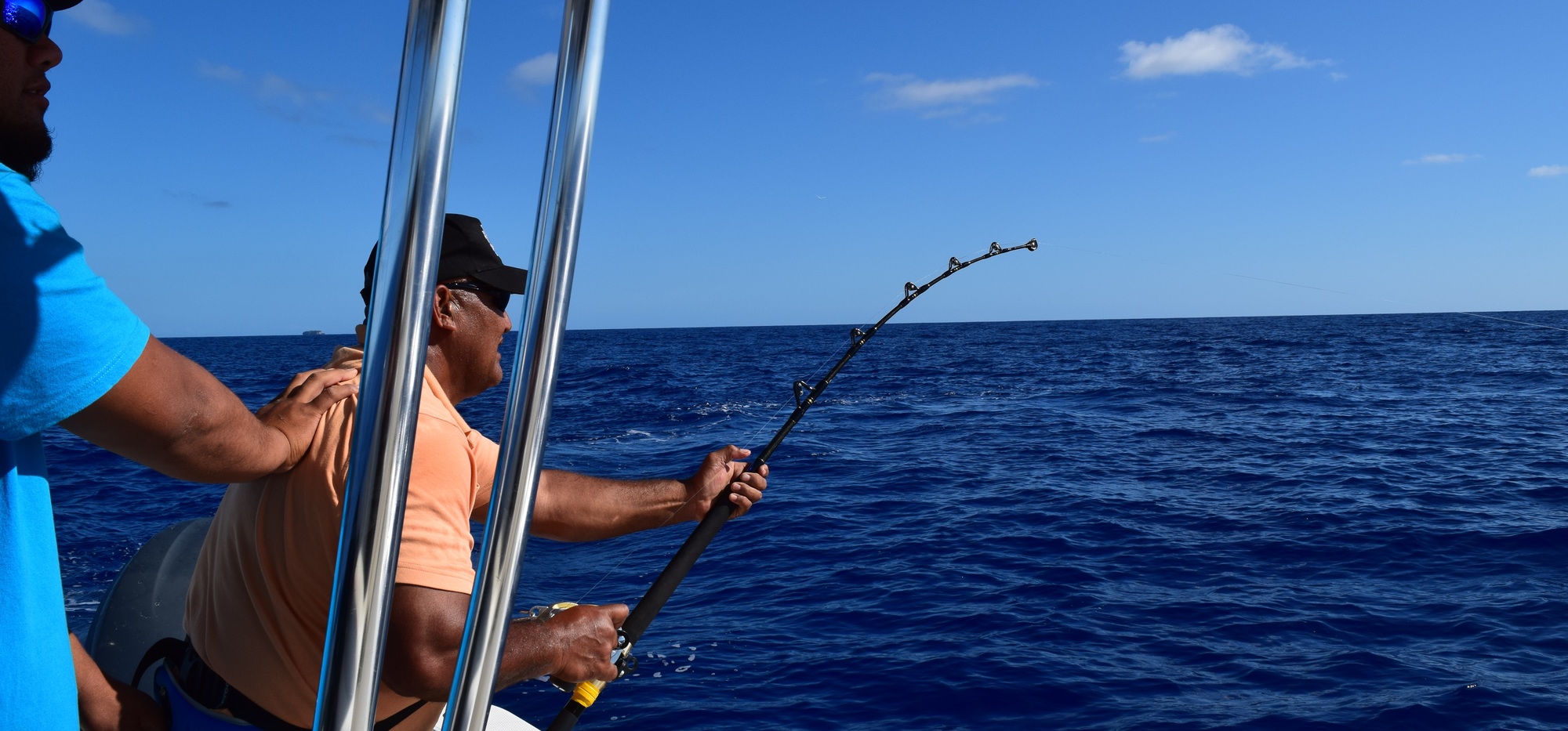 Welcome to the fishing grounds of the Vava'u islands in the Kingdom of Tonga. Vava'u offers many sport and game fishing opportunities amongst numerous small islands and over sand flats and fringing coral reefs. Deep water drop offs close to shore and off shore sea mounts produce a variety of large game fish.

About the Vessel

We operate a 31Express walk around vessel built to US Coast Guard Safety standards. Cruise speed of 25 knots ensures that your fishing time is not wasted travelling to the grounds. Enclosed toilet for privacy. Full walk around for maximum sport fish potential.

The Tackle

Experience the excitement of fighting large game fish on stand up tackle. Shimano 50W and 80W reels matched to Calstar stroker rods give you the advantage.

Enjoy light and medium tackle sport fishing for sailfish, mahi mahi, wahoo and tuna. Jigging tackle is also available for giant trevally, dogtooth tuna and jobfish.

BIG FISH VAVA'U

Stand up game fishing

Sport fishing

Maximum 4 anglers

Includes snacks, fruit, lunch and bottled water.
Poppin Tonga
Phone: +(676) 71-075
Email: info@luckysbeach.com
Web: www.luckysbeach.com
We specialise in GT Fishing – physically challenging either land or boat based – your call! Lupo is a Boston Whaler, Montauk 17, which is excellent for 2 anglers, one forward and one aft. It is powered by a 2009 Yamaha 60 HP 4-stroke for quiet cruising the reef edges.

We practice 100% catch and release for Giant Trevally.

We have 2 options. Bring your own gear, or use ours.

You will need to bring your own equipment for these fish as I would not be able to maintain a large enough stock of lures or poles to keep up with these fish. They are hard on the equipment!

Warning: This kind of fishing can be physically challenging, not to mention as just getting to some of the land based remote locations. Please be sure to ask all possible questions before booking GT fishing trips, especially land based ones.

Boat Charters
Full Day starting at $800 TOP Max 3 Anglers
Half Day starting at $500 TOP
Land Based available on request.
Hakula Lodge
www.fishtonga.com
Phone (676) 70 872
Fax (676) 70 875
E-mail fishtonga@kalianetvav.to
E-mail jeffery@kalianetvav.to
VHF 71
Operated by Hakula Lodge, "MV Hakula" is a 34-foot game fishing boat which will comfortably carry up to six anglers. The boat has fish finder GPS, toilet and shower, safety equipment and a fully equipped galley, with prime fishing spots just a 30 minute boat ride from the lodge. AUD$900 per day for sole charter of MV Hakula, professional services of skipper and deckie, all gear and light lunch, with low season prices available on application.